Gnosis
lives in deeds, withers away in abstractions, and is difficult to find even in the noblest of thoughts
Current Class:
The Gnostic Mysteries of Halloween
Thursday Oct 26th 7-9 pm
Gnostic comes from the Greek gnostikós – "to know" and it refers to a particular type of knowing: intuitive, direct and experiential knowing. We offer introductory courses and programs of progressive study and practice to help develop gnosis within us. As we come to know ourselves more, we come to know others, the world around us and the universe more deeply and intimately.
"Know thyself and you shall know the universe and the Gods."
Delphi Oracle
Current Class:
The Gnostic Mysteries of Halloween
Thursday, Oct 26th 7-9 pm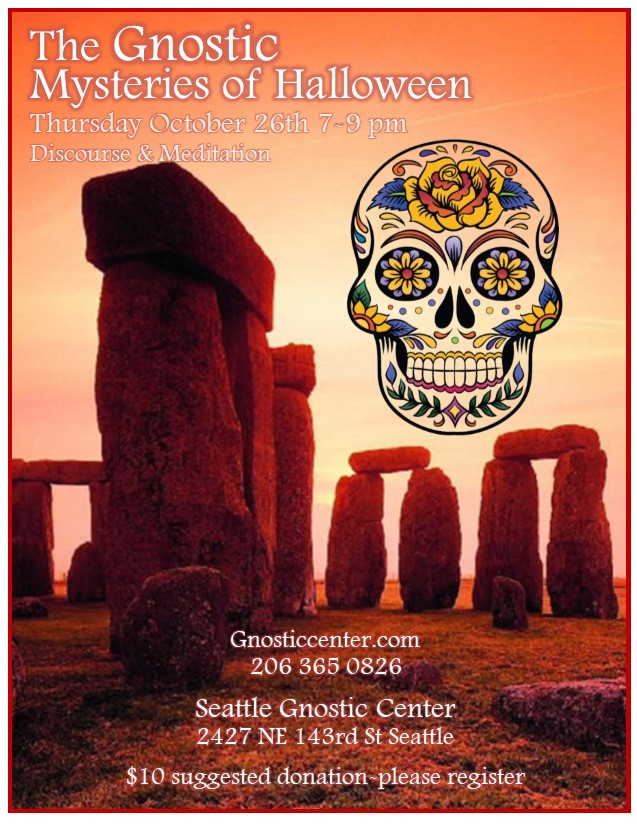 The religious and cultural holidays that we observe in the present day often have very deep and mystical roots and are connected to natural laws and cycles that revealed the presence of the Divine within daily life. Halloween is such a day. In the past, this time of the year was held sacred in that it represented a movement from the exterior warmth, growth and production of the summer months toward the interior reflection and search for warmth inside one's own family, home, heart, and soul.  We will explore the practical and mystical teachings within the symbols and traditions of this holiday, as well as their ancient origins. We will discuss how to take advantage of this mystical time to free ourselves from painful memories.
Join us for Talk and Practice
Class offered at no set fee but a $5-$10 donation is appreciated
"We need something that encourages us to work; we need an intimate aid. This is only possible through meditation."
V.M. Samael Aun Weor
Please type your name, email address and message/question/request.  We will respond as soon as possible.
Help support the Seattle Gnostic Center